Daisuke Matsuzaka was credited with the victory last night, and this speaks to my amazement as to why the baseball world has had such a raging stiffy for the "Win" statistic over the past 120 years or so.
Let's break it down:
5 innings pitched. Well, that's the minimum requirement I suppose. Huzzah.
2 hits allowed. Wow, that's pretty good. Nice work, Dice Man.
1 earned run. Again, very impressive. What's the problem again?
8 walks. Um…repeat that, please?
8 walks. EIGHT WALKS? WHAT THE F*&#??!!
1 strikeout. ONE STRIKEOUT AND EIGHT WALKS??!!!
Honestly, against a lineup that has about $30 billion dollars tied up in their top 5 hitters in the batting order, the Red Sox are lucky Detroit didn't score 15 runs.
I counted about 5 line drive or long fly ball outs that were gratuitously hit either directly at our fielders or the deep part of Comerica Park, while men were on base. This is, quite honestly, the flukiest 1-run pitching performance I have ever seen.
This really shouldn't be a "W" in the books, for the sake of quality record retention. There should be a new statistic engineered for this very thing (qualifying for a win while having a K/BB ratio of less than .25). A "Shrug" (SHR)? A "Phew" (PHW)? Last season, Matsuzaka led the American League in Phews, and he already has two or three of them this season.
I just need to get used to the fact that his strength is staying away from the strike zone, more so than the typical pitcher. Higher walk totals will hopefully continue to be coupled with low hit totals, and Daisuke will hopefully continue to win games.
However, in games where the other team "hits it where they ain't", there will be problems.
Side notes: Don Orsillo made us privy to an interesting factoid last night: the Red Sox are the first team in nearly 2 years to have the top 4 draft picks from a particular draft on the active roster at the same time (Jacoby Ellsbury, Craig Hansen, Jed Lowrie, Clay Buchholz).
One last point: I wholeheartedly approve of new NESN "sideline analyst" Heidi Watney. Sure, she stumbled a few times. But, you know…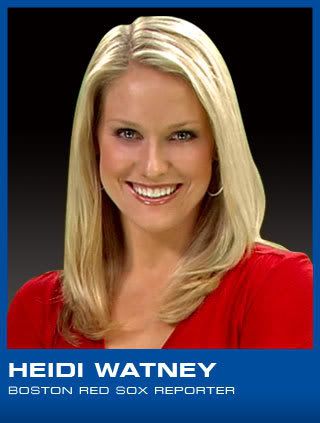 …I think I can allow her a honeymoon period.
2 Responses to "Matsuzaka Gets The "Win""